Twin Cities of Minnesota based classical/acoustic guitarist
Welcome!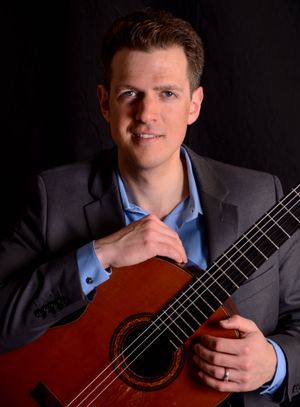 "It's all about the language of the finger-tips. A guitarist has to be a master of "pluck!" Minnesota guitarist, Jim Falbo is a true master...This is a glorious recording from a guitarist who clearly loves this music and has the chops to caress the listener into a seductive and gorgeous sound world." -Steve Staruch host of 99.5 KSJN classical MPR on Jim's 2014 album "Latin American Guitar Legends."
BIO:

Jim Falbo is an eclectic and accomplished guitarist, composer, instructor, and music arranger from St. Paul, Minnesota. Jim's music has been featured on Classical MPR 99.5 KSJN and 88.5 KBEM Jazz radio. Jim started playing guitar at the age of 11 after growing up listening to Led Zeppelin, Eric Clapton, The Beatles, and many 90's alternative bands. His love of many forms of music developed into a passion for classical and acoustic guitar, when he studied with guitarist Dean Harrington at K&S Conservatory of music. Jim has received glowing reviews for his ability to play a wide range of genres and styles including classical European, Latin, contemporary, gypsy jazz, world music, pop classics,,and acoustic fingerstyle guitar. As a high demand and award-winning performer, Jim plays in many settings including concerts, weddings, corporate events, and various other venues throughout the Twin Cities and Upper Midwest. Jim has won the 2022, 2021, 2020, 2019.2018, 2017. 2016, and 2015 Weddingwire.com Couples' Choice Awards winner for ceremony musician. Jim has also won the Best of 2017, and 2018 The Bash.com award (formerly Gigmasters.com).
Jim has recorded four albums - Strings of Passion (2008) Sounds of Europe (2013), Latin American Guitar Legends (2014) and his most recent release Guitar Reveries (Oct. 10, 2016). The new album includes his widest range of music to date including virtuosic South American, Spanish, and contemporary pieces. 
Jim currently resides in Burnsville, MN, and is a long suffering Minnesota sports fan.



CONCERTS: Go to Events for upcoming concerts. 

Jim Falbo's concerts fuse  classical and romantic music with many other styles and genres. The program's Jim put together stand out from the rest, with his "classical accessibility" approach, which involves meshing the classical guitar repertoire with contemporary hits, gypsy jazz, and pop classics. Jim selects a wide array of pieces in concerts from his vast repertoire, including Latin, Spanish, gypsy jazz, and contemporary pieces on classical and acoustic fingerstyle guitar.  His performances keep audiences and music lovers engaged with a style and technical ability that is lyrical and virtuosic from beginning to end. Jim's concerts simply have something for everyone. 
 
Samples from the new album:
Donate to support Jim's music via paypal. These donations greatly help in promotion of concerts and services, gear repair, site upkeep, and generally supporting independent musicians like Jim. Your donation is greatly appreciated!